It's no secret that content marketing is very effective for both cold outreach, lead nurturing and getting your customers sold on the idea before your sales team even makes the move. The placement of the right content at the right time drives traffic to your website.
But here is where it gets interesting.
B2C, as we all know, is a customer-oriented concept. So, it's the end customer that is kept in mind while working out the dynamics of the product or services being launched in the market. If you're creating content for B2C consumers, the content marketing strategies would focus on creating demand by targeting the emotions of the customers with the objective of influencing their buying behaviour – and eventually, generating sales.
But, the B2B content marketing story is entirely different.
Firstly, end customers are not those who would see your message. So, it's really not about generating sales or to create a product appeal in the market. B2B content marketing is about strategizing your content creation and placement in such a way that it targets the right businesses relevant to the services that you're offering.
It helps to dig deeper to find what B2B content marketing holds for businesses in the future. These statistics and trends will paint that perfect picture of B2B content marketing in 2020 and beyond!
Documented content strategy
With every passing year, the percentage of B2B marketers adapting a documented content marketing strategy is increasing.
You've already heard this advice a million times why you should adopt it, why it's more preferable and what it brings to the table. Content marketing is a driving force for your business; it's evident if you observe search metrics for keyphrases such as "content marketing" and "content strategy". Every business is trying to make this a pivotal part of their marketing strategy.
According to the report published by the Content Marketing Institute, around 69% of B2B marketers use a documented content marketing strategy.
The reason being, it's proving to be more beneficial when it comes to aligning the employees around a common goal. That way, the company can prevent investing in unnecessary marketing efforts. A documented strategy makes sure resource allocation is efficiently done to avoid any hassle that could hinder the work. Plus, it paints a clearer picture of which type of audience to target and what kind of content to focus on.
Technologies worth investing in
Content is a powerful tool that can make or break a brand. And, it's the tech-powered analytics and software that can be the differentiating factor between an unforgettable piece of content or a bunch of stats and facts that disappear without a trace.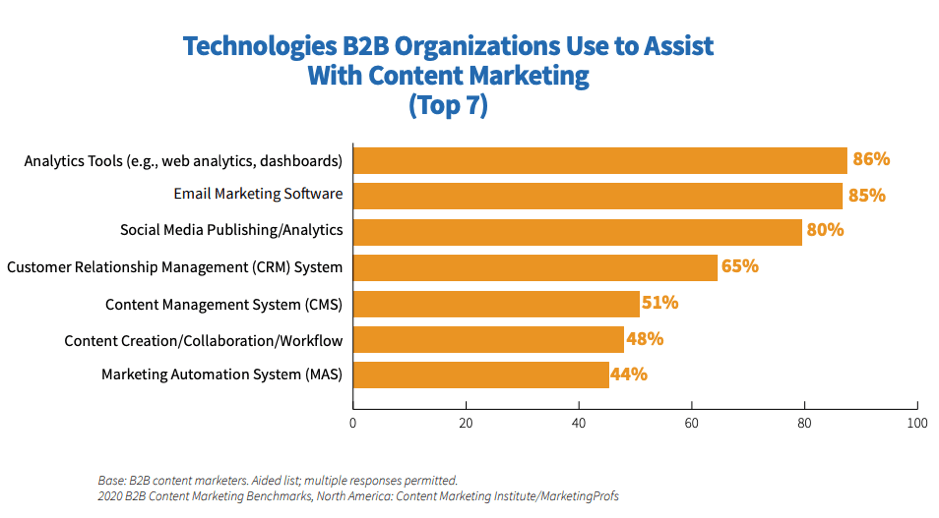 Various studies have been done on B2B marketers and the results very clearly show that technology has seeped in content marketing too. A report published by Marketing charts shows that 69% of the B2B marketers will prioritize their investment in analytics and measurement by 2020. Software is a reliable and trusted means to gain insights on the performance of the content. And not just that, it also helps to analyze the user experience and the type of traffic that's being driven to the website.
Check out- Content Marketing Agency in India
Outsourcing
What is the first thing you do to make sure your business is at the stay on the top of your game when it comes to talent? You hire professionals who can do a decent job. Statistics show 50% of the B2B marketers outsource at least one content marketing activity irrespective of size of the organization.

More than 50% of the companies outsource their content marketing because it saves them more time to continue doing the job they can excel at. Outsourcing provides companies with an opportunity to hire people who have expertise in that area. It gives them an edge over the companies who don't outsource because it generally symbolises progression in the industry.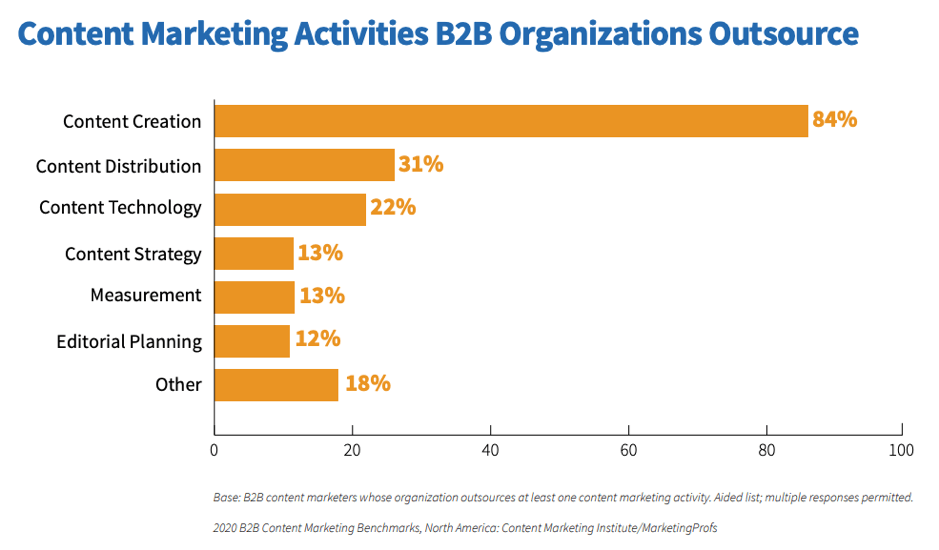 The survey that was done by the Content Marketing Institute also stated that the most outsourced content marketing activity is Content Creation with 84% of the total B2B companies involved in this.
The power of experiential content
Marketing in this age is based on experience. Just like customers, businesses rely on experience too. People don't compare you to your competitors anymore. They draw out a comparison between your brand and their positive experience. A good experience drives them to interact more with your brand.
Content marketing with context to B2B marketers is in fact very helpful in building trust. When high-quality content is published regularly that your target audience finds relevant, you successfully pique their interest as well as their trust in your brand.
However, when we say experiential content, we are not just talking about interactivity or entertainment. To make it an unforgettable experience, interactivity and experience are not enough, it takes more than that. It's safe to say that businesses which can produce data-driven interactive content presented by influential or credential sources, at scale will emerge as the pioneers in their respective industries.
Mobile-optimized content is the new B2B preference
Productivity is what everyone is running after nowadays. And maybe that's why, portable devices, especially mobile phones and tablets, are the most preferred ways to access anything online.
Because the thing is, people are habituated with multi-tasking to ensure that they can get most of it done in one go. It's an upcoming trend in B2B wherein buyers conduct online research at some point before making a purchase decision.
Statistics presented by Forbes show that 70% of B2B buyers prefer content that is optimized for mobile screens, tablets, etc. 33% said that they reference information online from their mobile phones and more than 50% said that they are comfortable making a business-related purchase online. So, if your website isn't mobile-optimized, now is your time to prioritize and get that sorted.
Leading marketing channels to look into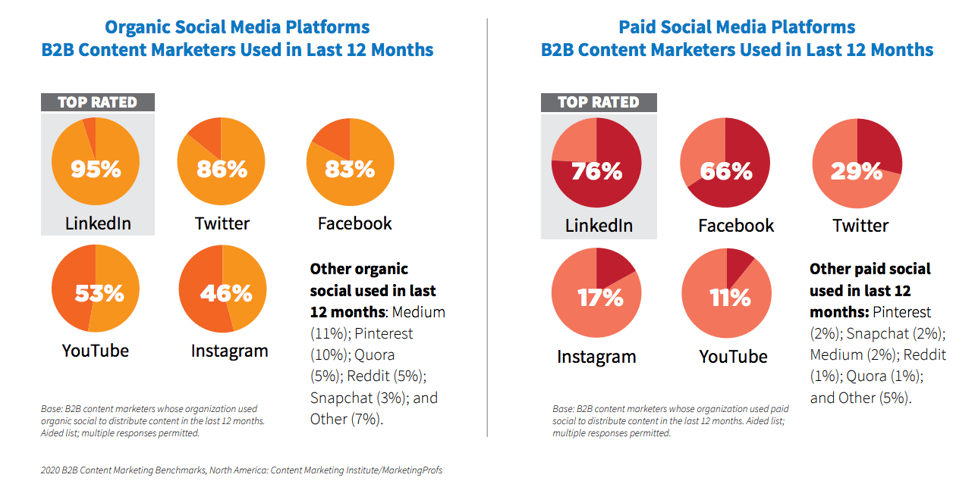 The marketing channels adopted for content marketing have seen a jump shift from paid mediums to organic in these last 12 months.
LinkedIn has become the best platform for organic reach and B2B content marketing. LinkedIn is what Facebook was, before a couple of years. If you can manage to consistently engage and build content for the audience, it can help generate a huge number of views to your posts, which you can direct to your website using appropriate CTAs. There are other underutilized channels to tap into like Reddit and Quora where you can find a niche group of audience that's interested in a particular subject.
The Funnel-Approach to concentrate content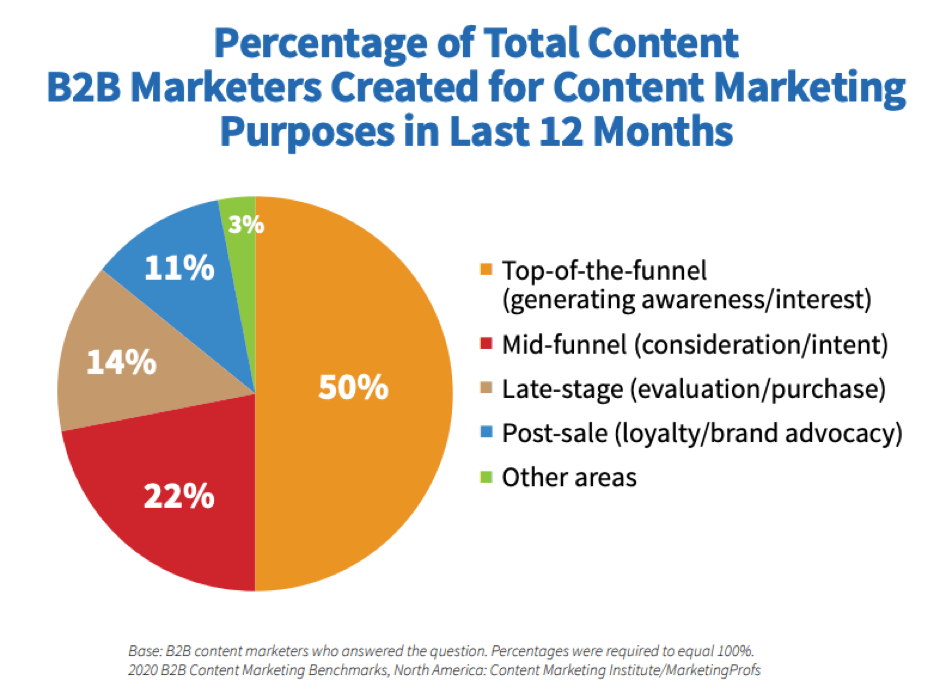 With content marketing still an upcoming trend in the B2B industry, the marketers are focusing on top-of-the-funnel content. 50% of the B2B content marketers narrowed down their content on topics of general awareness or to educate the customer. The reason being, the B2B marketers are shifting their focus on building content for the needs of the customer first in order to build their trust in the business.
Generally, the funnel-approach makes sure that the would-be customers go through a step-by-step content approach before they turn into an actual customer. Top of the funnel content works as a medium to propagate the information that potential leads are looking for.
Priorities in 2020
The marketers are shifting their focus on providing quality to the customers to create an experience that they would want to revisit at a later stage, with the underlying objective as improving brand recall.
The bottom line is that these trends and practices are going to result in change in the way B2B content marketing will advance in this new decade. This seems like the perfect time to adapt these changes in your business and turn it around. It's not like market practices will be going backward with the technology moving forward. So, go out there, give your content marketing strategies a deep thought and work it out before marketing makes another roundabout after all the chaos.