As a consumer, how many times have you reached out or researched a brand when you were not ready for purchase?
Maybe you're looking to invest in a heavy-duty surround system for your birthday, but it's a few weeks away yet, and you believe in thorough internet window shopping. Let's assume you checked out three brands, maybe even contact customer support for two of them to clarify certain questions.
One of those brands forgets about you until you're ready to engage, but the other constantly checks in with helpful emails and messages that are designed to help you make the best purchase decision. And ultimately, when the time comes to shell out the dollar bills, the decision is a no-brainer. It's obviously going to be the brand that spends so much effort in building trust and a relationship with someone who's not even a customer yet. 
This is lead nurturing: gentle nudges and unobtrusive prodding that convert a stalker or window shopper into a customer – through great content and a whole lot of trust.
These can be for inbound leads (website visitors, form-fills in the lead magnet, or inbound call inquiries) or even from outbound campaigns (a landing page promoted through ads, or cold emails, or other lead generation strategies). 
As more traffic pours in your website, it becomes imperative to design an effective lead nurturing strategy. The primary reason behind this is that only a tiny percentage (approximately 2%) of your leads will purchase from you right away. Most others, according to Marketo, are not yet ready to make an immediate purchase. (We call them top of the funnel leads).
A substantial portion of your leads will require a little more convincing to go further in the sales funnel. 
Source 
In this detailed guide, we will explore how you can tap into these Top of the Funnel leads and gentle guide them until they're ready to make a purchase.
Topics
What is Lead Nurturing? Why does it matter?
In plain words, lead nurturing refers to the process of capturing the attention of and attracting prospective customers who have previously indicated an interest in your product/services. Lead nurturing involves developing relationships with potential buyers at each stage of the buyer journey. 
The focus here is to "listen" to the prospects, understand their needs, and communicate with them via appropriate marketing strategies. 
In essence, the goal of lead nurturing is to convert prospects into buyers when they're ready to do business with you (purchase from you).
Often, marketers get so caught up with lead generation strategies and goals that they completely forget the importance of following up with those generated leads. When you nurture your leads using the right techniques, you guide them through their buyer journey – from being a potential buyer towards becoming a loyal customer. 
Here are some stats to reinstate the importance of lead nurturing:
Implementing lead nurturing strategies helped convert 15-20% of the "not ready to purchase" prospects into sales.

The response rate of lead nurturing emails is 4-10 times more than that of standalone emails. 

Companies that focus on lead nurturing generate 50% more sales leads, and that too, at a 33% lower cost per lead. 

On average, nurtured leads contribute to a 20% increase in sales opportunities than non-nurtured leads. 

Lead nurturing can save almost 80% of your direct mail budget while also increasing revenue by 10% or more within six to nine months. 
Check out- SEO Agency for Organic Growth
Best Lead Nurturing Practices 
Lead nurturing is crucial to the success of any business since lead nurturing strategies can directly influence the thinking patterns and purchasing decisions of your prospective buyers. 
Below are some of the best lead nurturing practices that you must follow!
Create targeted content
Just as there's no one-size-fits-all for marketing strategies, the same goes for lead nurturing. You cannot pitch the same content to all your customers. You must segregate them into specific buyer personas according to their age, interests, pain points, needs, marketing triggers, etc., and understand their unique qualities. Only then, you can create targeted content for each buyer persona. 
This will make your customers feel valued and "heard." Investing in a good marketing automation platform can make it much easier for you to identify and categorize your customers.
Draft personalized emails
When it comes to lead nurturing, nothing beats the good old' email, and if you can personalize the emails you send out to your leads, there's no stopping you! 
A study found that 41% of customers changed their brand loyalties because of a lack of customized services. You would certainly not want your prospects to go elsewhere! 
So, invest your time and efforts in creating highly personalized emails to target each buyer persona. This technique will ensure that your marketing/promotional messages resonate better with them. For instance, you can create and send out trigger emails to visitors if they complete a desired action such as click on the links on your website or download gated content. 

Source 
Follow up with leads
After you've successfully leered leads towards your brand, you must follow up with them regularly. If you send out welcome mails or a follow-up phone call to your leads just after their first interaction with your brand, it will actively contribute to converting inbound leads into qualified sales opportunities.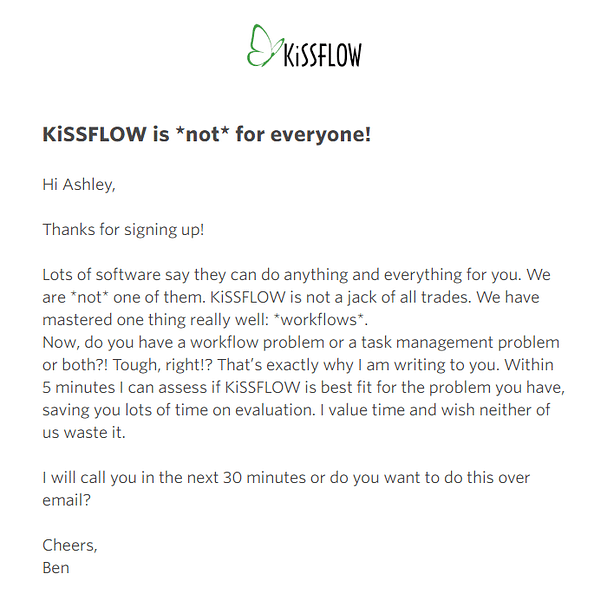 Source 
When a prospect interacts with you for the first time, you know exactly what they are looking for in your site, what pages they are visiting, what CTA buttons they are clicking, and so on. Bottom line – you have enough information to make a follow-up call or send a customized email based on the visitor's behaviour. Plus, there's always automated lead nurturing to help you reach out to a large group of prospective customers.
Leverage multi-channel lead nurturing techniques
Times have changed now and so have the marketing approaches. Earlier, a simple email drip campaign was sufficient for lead nurturing. However, today it is redundant. Lead nurturing now includes a host of components that together make up an effective strategy. 
If you want to capture the attention of the right audience, you must learn how to leverage multiple channels for lead nurturing. This would mean combining different channels and platforms to create a cohesive lead nurturing strategy. You can use email marketing, social media marketing, paid retargeting, dynamic website content, direct sales outreach, and marketing automation to reach out to your prospects. However, for the multichannel approach to work effectively, your marketing and sales teams must be perfectly coordinated.

Source 
Opt for multiple touchpoints
A buyer goes through numerous touchpoints during their buyer journey. According to research, a prospective customer usually goes through ten marketing touchpoints, from brand awareness (when they become aware of your company) to eventually becoming your customer. 
In such a scenario, it becomes essential to grasp the attention of your target audience at every touchpoint. As we've already mentioned earlier, one of the best ways of nurturing leads is by delivering highly targeted and customized content. You can use a mix of different types of content, including blogs, social media posts, whitepapers, ebooks, case studies, and direct mail, to name a few. 
Lead scoring is the way to go
Lead scoring is a technique used for ranking leads on a scale that depicts the perceived value of each lead, that is, how valuable, and relevant leads are to an organization. Usually, in lead scoring, numeric values are assigned to particular visitor/user behaviours like browsing patterns, conversion actions, social media interactions, etc.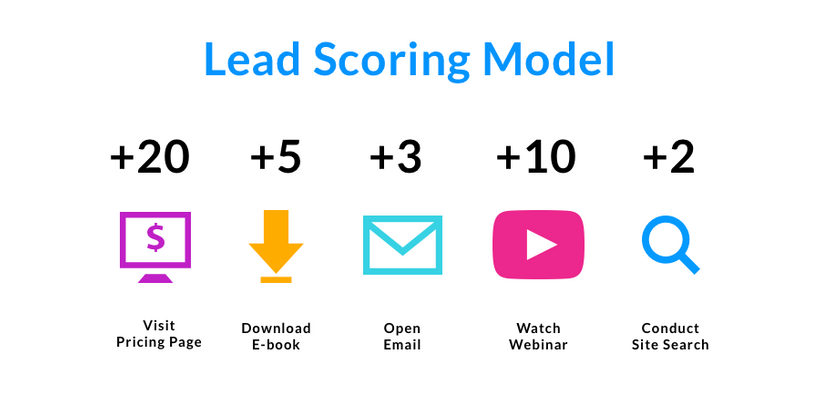 Source 
Once the lead score is calculated, you will know which leads are most likely to convert into customers, and then you can focus your marketing efforts towards those leads. 
Strike a harmony between sales and marketing 
It is a well-established fact that when your sales and marketing strategies are aligned, it will improve your customer retention rates and also make your lead nurturing strategies more fruitful. This is because your sales and marketing strategies have a direct impact on your lead nurturing efforts. When sales and marketing techniques are well-coordinated, they will help you to identify the exact points in a buyer's journey when they should be transitioned between your sales and marketing teams.
Source 
You can draft a document or agreement that outlines the mandates of the collaboration between the teams. Here you can mention the shared responsibilities, expectations, and marketing goals that must be followed by cross-functional teams in your organization. This will ensure that each team is accountable for their share of the responsibilities and act accordingly. 
Now that we've divulged the best lead nurturing tactics, it's time to reveal the most promising tool for nurturing your leads – HubSpot. HubSpot Workflows, to be precise. 
How to leverage Hubspot Workflows?
Before we dive into the nitty-gritty of HubSpot Workflows, let us first understand the concept of Workflows. 
HubSpot Workflows is a marketing automation tool that automates your internal as well as external processes, including marketing, sales, and customer service. Here, internal processes involve tasks like rotating leads and assigning deals to your sales team based on qualifying triggers. In contrast, external processes include marketing tasks like lead nurturing and creating email marketing campaigns.
Basically, Workflows refers to automated processes having set rules based on which tasks, information, and emails are triggered. Thus, Workflows help entwine context with content, triggering internal tasks and emails based on specific actions taken by a lead, like registering on your site, subscribing to your blog, downloading eBooks or gated content, and clicking on links in your emails. 
Thanks to smart automation of HubSpot Workflows, you can not only scale your marketing efforts but also save time on redundant tasks. With Workflows in place, you need not reinvent your wheel repeatedly for prospects taking the same actions. 
Now we can move on to the process of creating actionable HubSpot Workflows for lead nurturing!
Define your lead nurturing goal
Before you start creating your lead nurturing campaign, you need to establish a foundation for it. Foundation here refers to the goal you have in mind. Ask yourself, what do you wish to achieve through your lead nurturing campaign?
When you identify your goals and define them before creating a concrete strategy, you will ensure that all your efforts and solutions are directed towards the right audience. After all, the bigger picture is to guide your prospects through the sales funnel, boosting your conversion rates.
There are two aspects to consider when defining your lead nurturing goals:
Quantitative goals that are numeric measures to track the progress of your prospects, and,

Qualitative goals that focus on the core elements of your lead nurturing campaign, including organizing and maintaining a lead's actions and details and facilitating collaboration between marketing and sales teams. 
In this stage, you must carefully look at each goal and figure out how:
It impacts the buyer's journey and sales operations at every stage.

It encourages prospects to move forward in their buyer's journey.

It can guide them in every step of their journey.
Once you have these answers in your hand, you can create specific goals in HubSpot for managing your teams.
Identify your target audience
When you create a campaign (be it any campaign), you must first determine who is the campaign for. You must identify your target audience. Although we've mentioned this earlier, we'll repeat it – creating separate buyer personas is crucial to the success of any campaign. 
A buyer persona is nothing but a 'semi-fictional' representation of your ideal customer type. Buyer personas are semi-fictional in the sense that they are based on real customer data and extensive market research, and they are fictional figments that represent a particular section of your target audience. 
To create buyer personas, you have to consider the following aspects of your prospects:
Demographics

Behaviour patterns

Challenges

Motivations

Goals
Source 
After you have created the buyer personas, you can add them to your HubSpot account as a contact property and assign these personas to the contacts in your HubSpot account. Once these processes are completed, you can use the buyer personas to design active lists and then use these active lists to build and implement targeted nurturing campaign workflows.
Delve deep into each stage of the buyer's journey
A well-structured lead nurturing strategy will always give special attention to each step of the buyer's journey, which is broadly divided into three stages:
Source 
Awareness stage
This is the stage where your prospects first begin to realize that have certain challenges or pain points, and yet they cannot put a finger on it. So, in an attempt to give a name to their problems, they scourge the Web, looking for answers. 
Thus, as the name suggests, in this stage your job is to track and locate such unaware prospects/visitors and help them to understand their problems/challenges and engage them to stay on your site.
Consideration stage
In this stage, your prospects will be well-aware of their problem, and they'll be deeply involved in the search for a fitting solution. During the search process, they come across many brands that offer solutions to their problem, but they only engage with the content that best answers/addresses their issue.
In the second stage, you must focus on nurturing these prospects, along with all the marketing qualified leads (MQLs). Track every action of your leads and MQLs to gain more information about them, their preferences and needs. Study and analyze how these leads previously interacted with your content in the awareness stage and start pitching the most relevant content to them. 
Decision stage
This is the third stage in a buyer's journey when they are almost ready to purchase a product/service. So, in this stage, your main focus should be on nurturing sales qualified leads (SQLs) and your existing customers. You must carefully evaluate the interaction triggers of your prospects and put your sales team to the task of leveraging this data. This is when your sales team can send out decision-centric content to establish your brand's image in the minds of your prospects, such as special discounts or pricing pages as against those of your competitors. 
However, remember that your efforts do not come with a guarantee that your prospects will purchase from you. But there is a way to increase the chances of them buying from you – lead scoring. Lead scoring will present the most relevant (valuable) prospects to your sales team, and then it can follow-up with those leads with targeted solutions.
Tailor educational content for every stage of the buyer's journey
Now, we'll talk at length about the content creation process for each of the three stages of the buyer's journey.
Awareness stage
As your primary aim in this stage will be to create awareness about your brand, you have to specially create educational content to grab the attention of prospective customers. This type of content will help your prospects to identify their problem. 
To attract and engage leads in the awareness stage, you could rely on these five content types:
Quizzes – You can create basic quizzes with HubSpot to obtain valuable feedback fro your existing customers and prospects. Quizzes will not only allow you to capture more leads but also help you understand where they stand in their buyer's journey.
Consideration stage
In this stage, you aim to gather as much information as you can about your leads. Since your prospects will be assessing the possible solutions for their problems in this stage, you must engage them by sending out premium educational content.
Here are five content types to consider for stage two of the buyer's journey:
Decision stage
When your prospects reach this stage in their buyer's journey, they've already established a mindset for making a purchase. All they need is a little nudge from you – they need the assurance that they are making the right decision by choosing to do business with your brand. 
Thus, your decision stage content must be unique, something that assures your prospects about your offerings:
Product demos:

Product demos

must be such that can create a positive image of your brand in the eyes of potential customers. A well-crafted product demo can lure prospects from your competitors and win their loyalty.

Pricing page – When designing your website, make sure that your pricing page is located optimally and is easily accessible to visitors. Keep the pricing structure simple.

Free trials – Needless to say, this is a wonderful technique of building trust. By allowing your prospects to test your product before buying, you are giving more power to them. This will solidify their trust in you as a promising brand. 
Design a campaign using email lead nurturing workflows
A lead nurturing campaign aims to engage with your prospects at each stage of their buyer's journey as well as your sales process. Thus, you need to use and implement different types of workflows in your lead nurturing campaign to engage and re-engage your target audience.
Here are five workflows that work best for lead nurturing campaigns:
Welcome email workflow
As you can guess by the name, a welcome email workflow is sent to visitors when they provide personal information via subscriber or registration forms. Once a visitor interacts with your website, a welcome email will engage with them, welcoming them as a part of your brand's family. 
In your welcome emails, you can also include relevant links to educational content that can drive them toward the consideration stage and convert them into MQLs, or better yet, SQLs.
Source
Topic workflow
Topic workflows are the best tools for understanding and identifying the content type a particular lead/contact is interested in. Moreover, topic workflows can efficiently track each stage of the buyer's journey and even the sales process. They are great for lead scoring and customer segmentation.
Consider this – you are nurturing a lead, and it is converted into a 'contact' (by registering or subscribing). Now you can send the appropriate content to drive the contact into the consideration stage. But, it might happen that the contact will not follow the path you've created. This is where topic workflows enter. 
If the contact doesn't respond, you can send topic workflow emails containing a similar content type (that they first interacted with) after a few days. If they interact with this content, you will understand that this is their preferred content type. In this case, the topic workflow will guide the contact from the awareness stage to the consideration stage. Contrarily, if they don't follow the content, you can again send a topic workflow containing a different content type.
Source
Asset offer workflows
In the previous workflow, we've mentioned that if a contact positively engages with the content type that you send via a topic workflow, the asset offer workflow will come into play. This workflow works only when your target audience is segmented, and you know the kind of content they are interested in.
The asset offer workflow takes the gift-giving approach. You are targeting the right audience by offering them exactly what they want and need. These workflows aim to drive your contacts further into their buyer journey and successfully convert them into MQLs and SQLs. In asset offer workflow emails, you can promote unique offers for each stage (awareness, consideration, and decision stages).
Source
Engagement workflows
Engagement workflows are exclusively designed to target and capture the MQLs who are at the decision stage. Since these leads are almost ready to purchase, you must hit them with the right engagement emails to posit your brand at the top of their consideration list. The engagement workflow involves three emails created to target MQLs and SQLs:
The first email you send will position your brand and why your solution is the best choice for their problem. Case studies are the best option to prove your competency to your prospects. 

The second email you send out will contain a content type that highlights your solution's credibility in the real world. Here you can gift them coupons for free trials or demo for your product/service.

In the third email, you will go all-in, irrespective of whether or not the prospects interacted with your first two emails. In this email, you can attach the pricing page to attract the MQLs and SQLs towards your offerings. 
All these emails will notify your sales team in due time as and when the leads progress through their buyer's journey. The emails will even alert them of the specific actions taken by the prospects, so the sales team can provide the necessary support to SQLs when they are contemplating purchasing decisions.
Source
Re-engagement workflow
This workflow is exclusively meant for targeting cold leads. By cold leads, we mean those leads that were once valuable prospects for becoming your customers, but for some reason, they derailed mid-way in the awareness stage itself. This can happen when and if:
They find a better and more promising solution to their problem. 

They realize that their problem is no longer a high priority issue.

The product/service you are offering is too expensive for them.
If your once-hot prospects turn into cold leads, not to worry. There are ways to fix that by re-engaging them. You can do this in three steps via re-engagement email workflows:
In the first re-engagement email, you can provide general information about your company and products/services or tell your brand's story (capturing attention through sentimentality). You can even mention about service updates, exclusive discounts, steal deals, etc. 

In the second re-engagement email, you could request them to take a short survey to determine their problem and then pitch your solution to them.

In the third re-engagement email, you can use a conversational tone to reposition your brand in their minds. This could be a farewell email, or a win-back email, or a reminder email notifying them about their last viewed content/product.
Source
Best examples of lead nurturing emails to inspire you!
So far, we've shared with you some of the best tricks and practices for nurturing your leads, and now's the time to inspire you with five top-notch lead nurturing email examples!
Testimonials are powerful tools, and Casper sure knows how to harness that power. When buying products online, potential customers almost always check for user reviews and testimonials. Casper uses customer testimonials in its abandoned cart email to re-engage prospects. 
What's best is that Casper does it with a unique approach. In its email, it asks the reader if they would want to revisit the items they left hanging in the cart, and it does so quite cleverly by including social proof. The email consists of two compelling, yet straightforward CTAs. Here's an example:
Source
Chubbies has established a reputation in the retail industry, thanks to its quirky marketing techniques. The brand is highly focused on putting a fun spin on their content. Not for nothing, it has over 1.68 million Facebook likes!
When you see an email from Chubbies, you'll immediately be blown away by the fun, conversational, and cheeky content containing multiple CTAs – it is both informative and engaging at the same time. Chubbies always include user-generated content and promotional offers in its email newsletters. So, even if a reader doesn't want to buy anything from the brand at the moment, they'll still want to follow it. Neat, right? 
Often when marketers think of lead nurturing emails, they bear the notion that it must be promotional. However, that's far from the truth. While it's great to promote your products/services, special offers, campaigns, etc., you must remember that user engagement is a crucial driver for sales. So, even if your lead nurturing emails are on promotional lines, make sure that the content is appealing to the readers. 
Framebridge understands this very well, and that's why it promotes 'education' via its lead nurturing emails. In exchange for some relevant information from the readers, Framebridge teaches a useful real-world skill through its emails. It has a solo, but distinct, CTA – 'Educate Me.'
For long Airbnb has been giving us wanderlust goals. After all, who can resist the idea of escaping to a new place, exploring it in your own terms, and enjoying the calm of the perfect homestay!
The same goes for Airbnb's lead nurturing emails. Its emails focus on depicting breathtaking tourist destinations, highlighting a clear CTA, without seeming overbearing to the reader. The emails are highly customized and curated, and hence, are successful in delivering the right message to the recipients. 
If you've ever expressed a desire to learn a new language and browsed the Web in search of the right app, the chances are that you've come across Duolingo. It is perhaps the best platform to learn a new language for free, sitting at the comfort of your home. The app has around 23 different languages that are spoken around the world, including Klingon (you heard that right Star Trek lovers)!
Duolingo encourages user engagement by holding contests and asking them to nominate their favourite teacher. This is a total win-win – while Duolingo gets its clicks, it also urges brand-user interaction in a fun way. Also, Duolingo uses user testimonials as social proof for attracting hot prospects. 
Conclusion
So, there's our detailed guide on lead nurturing! 
Today, customers enjoy the upper hand. There's no shortage of brands that are willing to offer similar (if not same) products/services to your potential customers. In such a scenario, the only way to survive in the cut-throat competition of the modern market is to create lead nurturing strategies that go hand-in-hand with your lead generation campaigns. 
By now, you've realized that lead nurturing is no rocket science. However, it can be challenging if you don't know where and how to start. And that's why we're here for you!
If you need any help on the lead nurturing front, you can always reach out to us, and we'll set up a campaign for you. We hope this helps!